Taking advantage of perfect weather conditions during the summer, competitive players from many different clubs gather on Tuesday afternoons to battle it out in a series of friendly Golf Croquet games.
—————————————————————————————
Nedlands Croquet Club comes to the University of Western Australia!
On a sunny Friday afternoon in early November, Nedlands Croquet Club set up 3 mini-croquet courts for the annual UWA Sports Day.  Staff and students alike had much fun learning how to play the exciting game of golf croquet.
—————————————————————————————
Croquet Offspring Day at Nedlands Croquet Club!
Nedlands Croquet Club recently hosted the first of what will become an annual event – a 'Croquet Offspring Day'! Skilled players brought their children and grandchildren to the Club to introduce our amazing game to the younger players.
You can see a 15 minute video by clicking here, showing some of the day's play, with interviews from two top WA players and feedback from the offspring themselves!
—————————————————————————————-
Hear Chris McWhirter – 2017 WA and Australian Golf Croquet Captain, talking about golf croquet on Perth's 91.3 SportFM radio station
Click here to listen to Chris McWhirter's radio interview on SportFM's 'Sports Breakfast' show of 12 Sept 2017. The 7 minute extract has been enhanced by crowds and musicians at Nedlands Croquet Club!
………………………………………………………………………………………………WA Successes at National Golf Croquet Championships in Brisbane – Sept 2017
Congratulations to:
Chris McWhirter (Forrest Park) for winning his fifth GC Gold Medal and making 2017 a hat-trick for three years in a row

The WA State Team for winning the GC Interstate Shield for the first time – beating five other Australian States

Fleur Brockway (East Fremantle) for becoming the No 1-ranked female GC player in Australia.
——————————————————————————————–
Helen and Michael – 'Runners-Up' in the 2017 York Country Doubles Golf Croquet Tournament
For only their second time playing together, Helen Amyes (York Croquet Club) and Michael Trefusis-Paynter (Nedlands) surprised themselves by reaching the Finals in this year's York Country Doubles GC Tournament.
Martin Clarke (Gosnells Croquet Club) and Dorothy Bull (York) won the two-day event that attracted 32 players from 10 different croquet clubs around the State.
———————————————————————————————————————-
---
Alan and Eric take out the 2017 Association Croquet (AC) 'Champion of Champions' trophies at Nedlands Croquet Club
Congratulations to Alan Sands  of Como Croquet Club and Eric Ayling of York Croquet Club, for their magnificent achievements in this year's AC Champion of Champions played at the Nedlands Croquet Club.
Alan took out the McBride Cup (the trophy for metro club champions), and is the overall '2017 AC Champion of Champions'!
Eric was the runner-up, and took out the Thorogood Trophy for country club champions.
And 'Hats On!' to those players who continued with their game despite the inclement weather conditions.
—————————————————————————-Ladies Competition at Nedlands Croquet Club won by two striking women!
Not only was the weather glorious,  but the 16 participants had a really great time! Ladies came from as far afield as Narrogin, Busselton and York. The competition was a Rotating Doubles, with players in each block of 8, coupling up with a different doubles-partner for every new game played. Fleur Brockway of East Fremantle came out winner of Block A, and Di McGivern of Sorrento, was the winner in Block B.
———————————————————————————–
"Better than bowls.." "And more strategic, too!"
Just some comments received from two staffers of a large corporation holding a social event at the Nedlands Croquet Club in late March 2017.  Newcomers to the game of Golf Croquet are often amazed at the skills required, and the number of different tactics to chose from when playing this exciting and vibrant sport.
———————————————————————————————–
MX5 Car Club enjoys annual croquet outing at Nedlands Croquet Club
The WA MX5 Car Club attended their annual croquet outing on 21 Feb 2017. The date, purposely chosen during one of the warmest weeks of the year, unfortunately turned out to be a freezing cold evening! But not as cold as when the MX5 Car Club attended their annual croquet outing at the Club on 6 June 2014 – during Perth's real winter!
——————————————————————————————-
Quiz Night – a truly 'smashing' evening!
Nedlands Croquet Club hosted a fun-filled Quiz Night on Friday 24 February 2017. Quizmaster Martin Clarke had the enthusiastic guests scratching their heads from the outset, but their animation didn't waiver. Lots of delicious nibbles were consumed and many prizes were won. A truly 'smashing' evening – even without croquet balls.
————————————————————————————
Dorothy shows 'em where croquet can get you!
Congratulations to Dorothy Bull of York Croquet Club, who was presented with an award as the York Open Sports Star 2016 on Australia Day 2017. Dorothy represented WA in the Australian Golf Croquet Championships in Perth last year, and was nominated by her Club which actively supports the growth of croquet in Australia.
———————————————————————————————
Corporate visitors have a ball (or three!) at Nedlands Croquet Club
Staff members from one of Perth's largest city councils, enjoyed an evening of camaraderie, bonding and fun when challenging each other in a game of croquet during their annual Christmas function.
—————————————————————————————–
Nedlands Croquet Club lends a helping hand at UWA's Annual Staff Sports Day
Nedlands Croquet Club went to the University of Western Australia on Friday 11 Nov 2016 to assist with UWA's annual Staff Sports event. For the first time, golf croquet was included, and over 70 people registered to play. Three half-courts were created on the day, and much fun was had by all!
—————————————————————————————-
Croquet – a great game for all seasons!
Well – we're through with October 2016 and a hint of warmth is now in the air. It's been a long, cold and blustery winter, but this hasn't put off the hardy souls for whom croquet is in their blood, nor those up for a bit of fun!
Pictures courtesy of Michael Murphy – Forrest Park Croquet Club
——————————————————————————————————————————
Exciting play at Nedlands Croquet Club during 2016 Australian Golf Croquet Championships
In early Sept 2016, Nedlands Croquet Club jointly hosted the 2016 Australian Golf Croquet Championships. Teams from six states across Australia and individual players took to the lawns at seven venues to battle it out in four different events held over 12 days. Participants varied in age from a budding sixteen year-old future star, to interstate champions in their eighties.
———————————————————————————————————-
New Quadway Hoops pose a new challenge to Club players
The Club recently acquired four new sets of Quadway hoops. Quadway hoops demonstrate a major improvement in hoop design, by facilitating easy and fast adjustments to the hoop width without affecting existing hoop holes. Adjustments are made through the use of a simple Allen key on screws that rotate the hoop uprights. Up to four different width settings can be achieved in this way.
Another distinctive characteristic of Quadway hoops are the square carrots (made of medium tensile steel) which promote rigidity and stability.
——————————————————————————————————-
Exciting play at Nedlands Croquet Club!
Peter Ross from Halls Head Croquet Club, WA, narrowly beat Trevor Bassett (Vic) to win the Association Croquet 2016 WA State Open Singles held over the WA Day long-weekend, 4-6 Jun 2016.
 (Pictures courtesy of Lyndsay David)
 (Click here for more images)
 —————————————————————————-
40th birthday bash at Nedlands Croquet Club on a Sunday afternoon…
Cool jazz floated across the lawns, where mums, dads and youngsters enjoyed their first fling at swinging a croquet mallet. Friends had organised a surprise birthday party for Scott who was celebrating his 40th!
———————————————————————
Hats on for the Hens at Nedlands Croquet Club!
Jody (centre) organiser of the Hen's party, ensured all guests were equipped with appropriate headwear to play a fun game of croquet!
(Click here for more images)
———————————————————————————–
'Nedlands Croquet Club – what a great venue!'
So said Paul the groom, as he and brand-new wife Sarah, celebrated their 2nd day of marriage with sixty guests at a colourful and lively after-wedding party – eating, drinking, and playing croquet!
(Click here for more images)
———————————————————————————–
Bankwest team challenge at Nedlands Croquet Club!
Bankwest team members playing croquet for the first time. The boys were quick to learn the game, and all showed signs of becoming promising players!
(Click here for more images)
—————————————————————————————————————–
Saying farewell to 2015 at Nedlands Croquet Club!
On the last day of the year, members enjoyed a sumptuous feast and some social croquet to see out the old year.
—————————————————————————————
Never too late to host a function at Nedlands Croquet Club!
We're open for business throughout the year!
If you have an event you'd like to host with some excellent social, fun and competitive sport thrown in, book now by contacting Wendy at 0408 911 974 or email
wenpren@hotmail.com
———————————————————————

Nedlands Croquet Club – anyone can have a go!
If you're keen to see what croquet is all about, give us a call at 0408 911 974 to arrange a free coaching session! We have coaches for both Association Croquet and Golf Croquet.

————————————————————————————-

Nedlands Croquet Club 2015 Open Day!

Come along to our free event on Thursday 12 November 2015 anytime between 10.00 am and 4.00 pm and 'Have a Go' at playing croquet. Anyone can play! Be social, have some fun and you'll be made very welcome!

To see our full flyer, please click here.

—————————————————————————————

UK Visitor to Nedlands Croquet Club Returns the Compliment!

Tim Johnson, visitor and friend of Nedlands Croquet Club, recently treated Nedlands Croquet Club member Michael Trefusis-Paynter to a game of croquet at his croquet club in Lodsworth, West Sussex on a beautiful autumn day in mid-September 2015.

Lodsworth is one of the newest and smallest clubs in the UK.

Three days earlier, Tim and Michael had enjoyed watching some of the UK's top players in action at the West Sussex County Croquet Club – one of the largest clubs in the UK with eleven lawns!

———————————————————————————————————————

Nedlands Croquet Club – 2015 Fun Tournament 12/13 Sept 2015

The theme for the annual 2015 Nedlands Fun Tournament was 'Around the World'.

Participants were invited to dress in national costume to help make the event as colourful and vibrant as it always is!

Winners this year were:

Block A – Martin Clarke and Mori Chong

Block B – Derek and Gwen Freeman.

Click here for a 5 minute video of the 2014 Annual Fun Tournament (ensure the volume control on the clip is 'On')

Click here for pics of the Annual 2014 and 2013 Fun Tournaments

——————————————————————–

Croquet – spreading the word!
When it comes to personalising number plates , some people pull out all the stops. Janine McHardy (Forrest Park) has chosen a novel way to promote our sport!
—————————————————————————————-
Up for a Challenge at Nedlands Croquet Club?
Croquet, in all its forms, can be a very challenging sport. However, no game is likely to be as challenging as it was to build this 10th century church, in Le Puy-en-Velay, France.
———————————————————————————————
Gosnells does it again!
Thursday 7 May 2015
Gosnells Croquet Club put on a most enjoyable day for its Nedlands friends at the first of 2015's bi-annual 'Friendlies' played between the two clubs each year.
(Click here for more images)
 2015 Anzac Day Sunrise – Nedlands Croquet Club
If there're any croquet players who know anything about the Anzacs, it's our very own Mike Galvin – current member and past President of Nedlands Croquet Club.
Tuesday, 14 April 2015
HSBC enjoys some cool corporate bonding at Nedlands Croquet Club!
Staff from HSBC's St Georges Terrace office experiencing their first game of croquet

('..very cerebral…' – David)

and a chance to bond more tightly as a team in more ways than one!
 ————————————————————————————–
Martin Clarke takes out the 2015 Nedlands Croquet Club GC Singles title
Australia's No 4 ranking Golf Croquet player, won the title of the Club's 2015  Annual GC Singles Championship with Richard Lee the runner-up.
(Click here for more images)
———————————————————————————————————-
Former Nedlands Croquet Club Treasurer, Elizabeth Goode passes away
On Tuesday 3rd March 2015, Elizabeth Goode passed away peacefully. Nedlands Croquet Club members Barbara Wilson, Gwen Swarbrick and Elaine Bonds attended a 'beautiful funeral service' on Monday 16th March 2015 at St. Luke's Anglican Church, Mosman Park.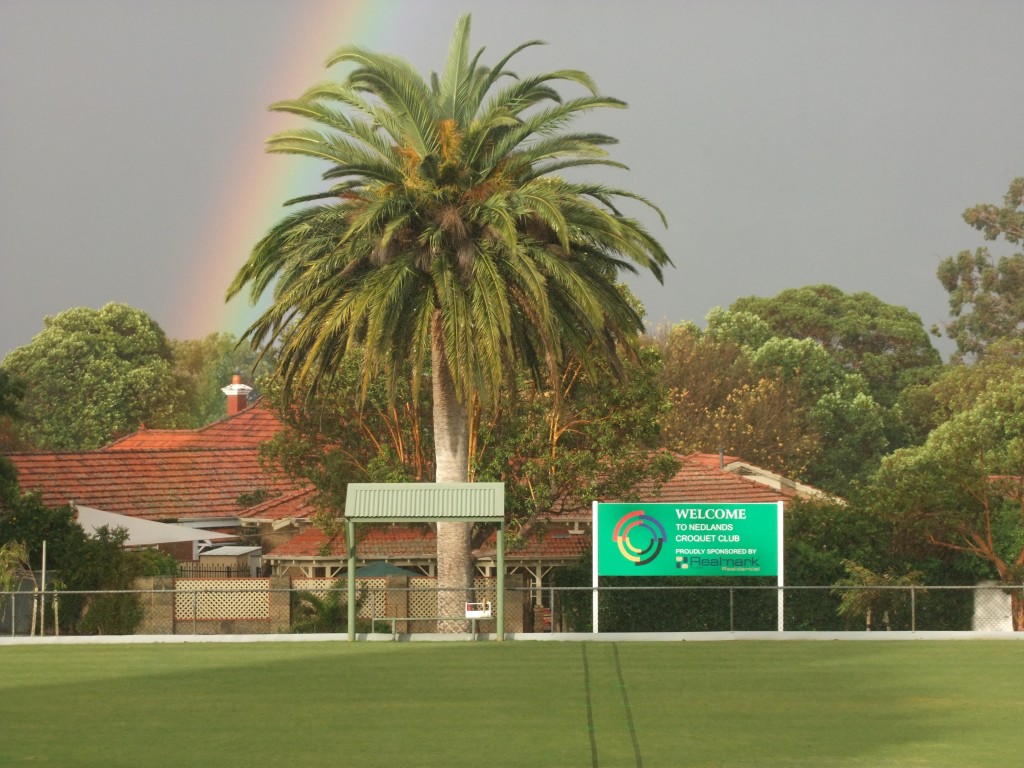 Barbara remembers Elizabeth as, 'An amazing lady who did so much for other people in her lifetime. She was the Treasurer of Nedlands Croquet Club for many years, amongst the other positions she held elsewhere. She also had an amazing memory for birthdays and family names.
We were very pleased to have attended her farewell'.
———————————————————————————————————-
Naked Croquet!
Nedlands Croquet Club kicks off its Naked Croquet Program on Tuesday 10 March 2015. 
Participants will have the chance to paint a live model under instruction from one of Perth's most respected artists, then learn the bare facts of, and play one of the most exciting sports around – golf-croquet! (Click here to see a 5 minute clip of our 2014 Annual Fun Tournament!)
For further details of the Naked Croquet Program, click here!
———————————————————————————————
UWA's Bachelor of Philosophy Summer School  had a fun night getting to know each other in a friendly, competitive environment!
(Click here for more images)
—————————————————————————————————–
Nedlands Croquet Club hosted two tournaments for Association Croquet players over the Australia Day Long Weekend.  (Pictures to follow soon). Meantime, here's a taste…!
———————————————————————————–
Nedlands Croquet Club hosts a variety of functions in December – from Alice in Wonderland to Zorb Soccer!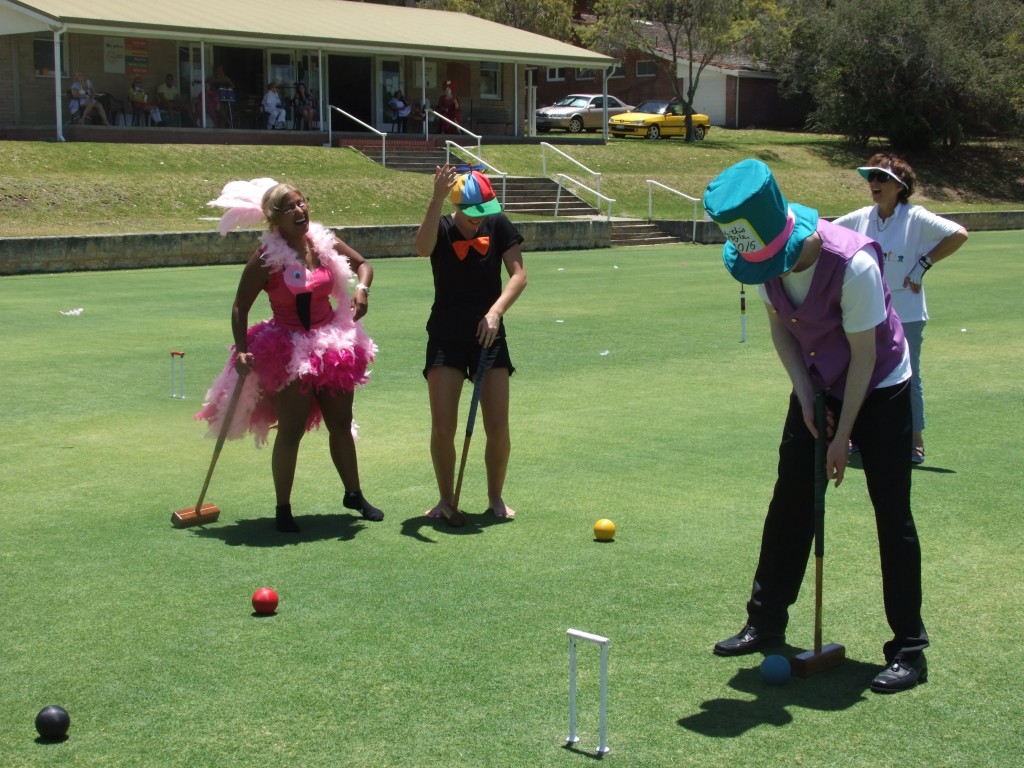 (Click here for more images)
————————————————————————————
The article says it all….!
Halloween came to Nedlands Croquet Club on the last day of October 2014. Our sponsors – Realmark Western Suburbs celebrated its huge 1st year anniversary with a big Halloween party – face painting, jumping castles, fancy dress and twisted balloons!
(Click here for more images of Realmark's big Halloween party bash!)
The second Anne Tothill Tournament was a great success – Division 3 players competing in glorious sunshine.
The 2014 Nedlands Fun Tournament was a blast!
The theme this year was 'Come as your favourite book'
(Click here for images of our 2014 Fun Tournament)

Nedlands Croquet Club's 2014 Trophy Day – a celebration in style
Nedlands Croquet Club held its annual Trophy Day on the afternoon of 9 August 2014 and was graced by the presence of several special guests – MLA for Nedlands, the Hon Bill Marmion, Mayor of Nedlands Max Hipkins, and Club Sponsors Emma and Adam Gilbert of Realmark.
Trophies were presented to the winners and runners-up of Club tournaments held during the year, and members enjoyed an assortment of delicacies, followed by brief addresses from our honoured guests.
(Click here for List of Trophy Winners and Runners-Up)
(Click here for more images)
UWA's Finance Association of WA hold their 3rd annual social croquet event at Nedlands Croquet Club
(Click here for more images)
Nedlands Croquet Club launches the inaugural Anne Tothill Tournament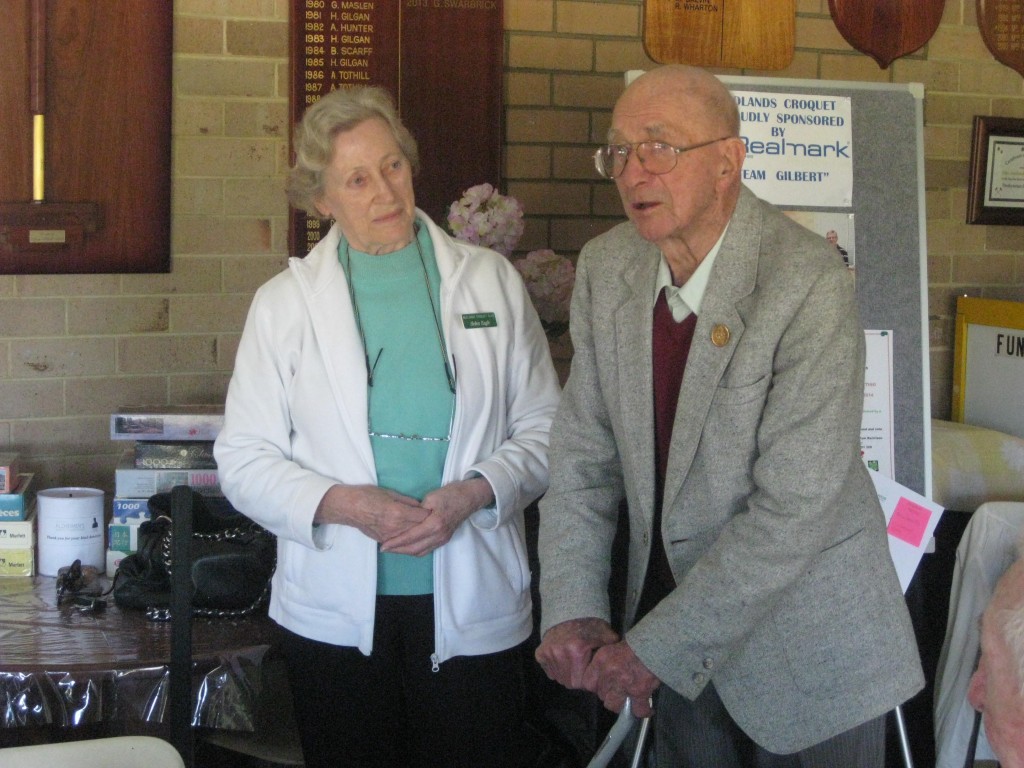 Tournament Manager Helen Eagle and Mr Peter Tothill
The Anne Tothill Tournament is named after a past active member of our Club who kindly left us a small bequest to be used in developing Association Croquet (AC) Division 3 and 4 players.
Helen Eagle, an accomplished AC player herself, devised and organised the tournament which attracted 16 Division 4 entrants from clubs all over Perth.
Guest of Honour was Mr Peter Tothill, 96 year-old brother of the late Anne, who was accompanied by his daughter Wendy.
P

eter, who still plays golf, expressed delight at being invited to Nedlands Croquet Club to present the prizes.
(Click here for more images)
Nedlands Croquet Club hosts the 2014 WA Association Croquet (AC) Champion of Champions Tournament
(Click

here

for more images)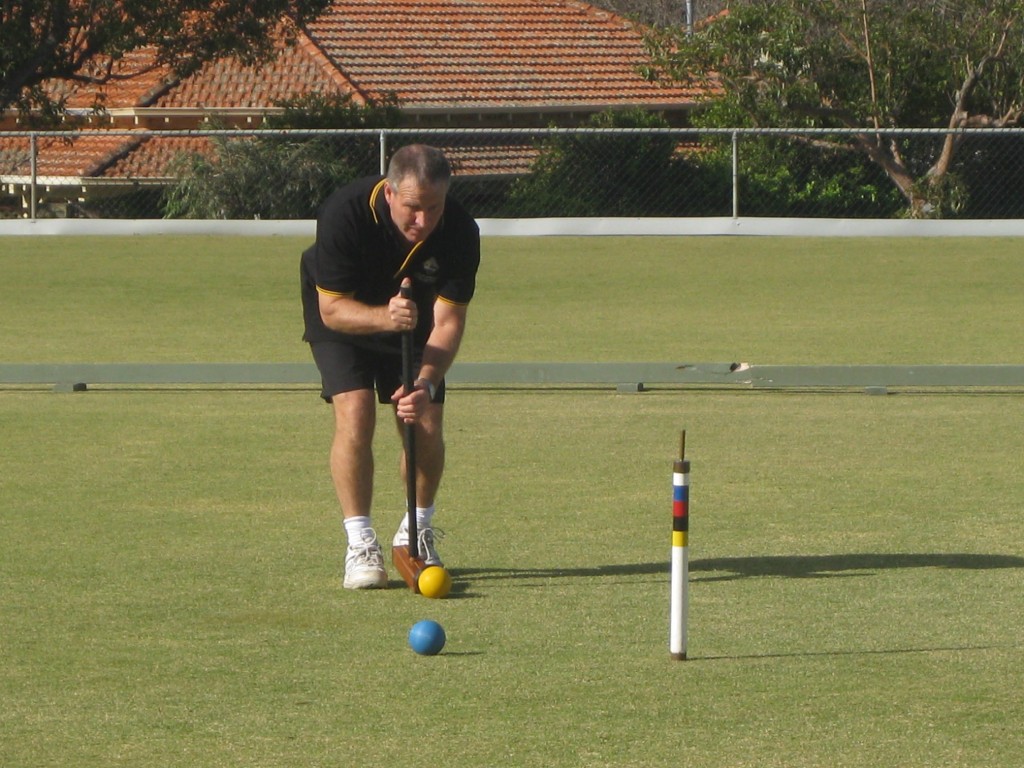 Winner Alan Sands of Como Croquet Club in action during the final game
The dawning of a new era for our Club…..
(Click here for more images)